Bathrooms
Bathroom Design In Greensboro, N.C. — Find Your Oasis!
Exquisite Bathroom Design
We know how you feel. Your bathroom is just too cramped, too shabby, too…outdated! But there's good news. The bathroom doesn't have to be a mere utilitarian "room with a bath" anymore. It should be your personal paradise, a serene oasis from the stress and hurry of the day. A space to leisurely primp and apply makeup, to relax in a tub, to wash away the preoccupations of the day, and, simply, it should be your personal retreat (with a "his" sink, of course… and maybe a "his" toilet, too!)
We get it. That's why our design professionals at Cabinet Concepts can transform your boring bathroom into a luxurious spa retreat, equipped with the latest modern conveniences. If you're looking for exquisite bathroom design in Greensboro, N.C., you've come to the right place.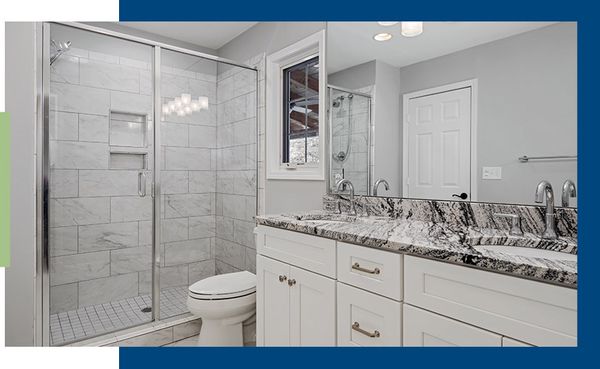 Our Process Is As Simple As:
Initial Consultation — You approach us and receive a free consultation.

Determine Budget — We help you figure out your best approach based on your budget.

Design & Selections — Your bathroom design is on its way and it's time to finalize your decisions.

Production — We start building your cabinets and other items that are going to be used in your bathroom remodeling project.

Installation — Our team of experts go and install your new bathroom!
What Can We Design For Your Bathroom?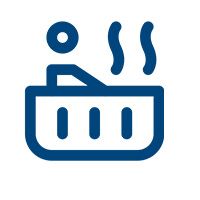 Hot Tub & Jacuzzi Additions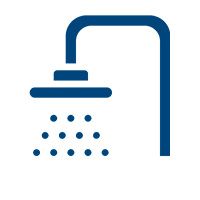 A Walk-In Showers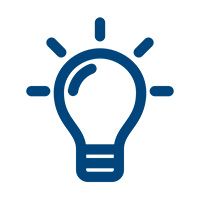 New Lighting Arrangement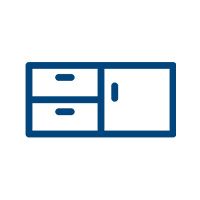 Cabinets & Sink Settings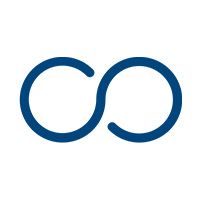 Endless Options!
Enjoy Your Bathroom With Our Remodeling
When you are remodeling or building your bathroom, the possibilities are endless. Whether you want a minimalistic approach or you are looking for a spa-like setting, Cabinet Concepts will help you by designing the perfect match that will satisfy your needs and that will be within your budget — we know how essential it is to have a bathroom that you can enjoy and we won't rest until it's the perfect one for you!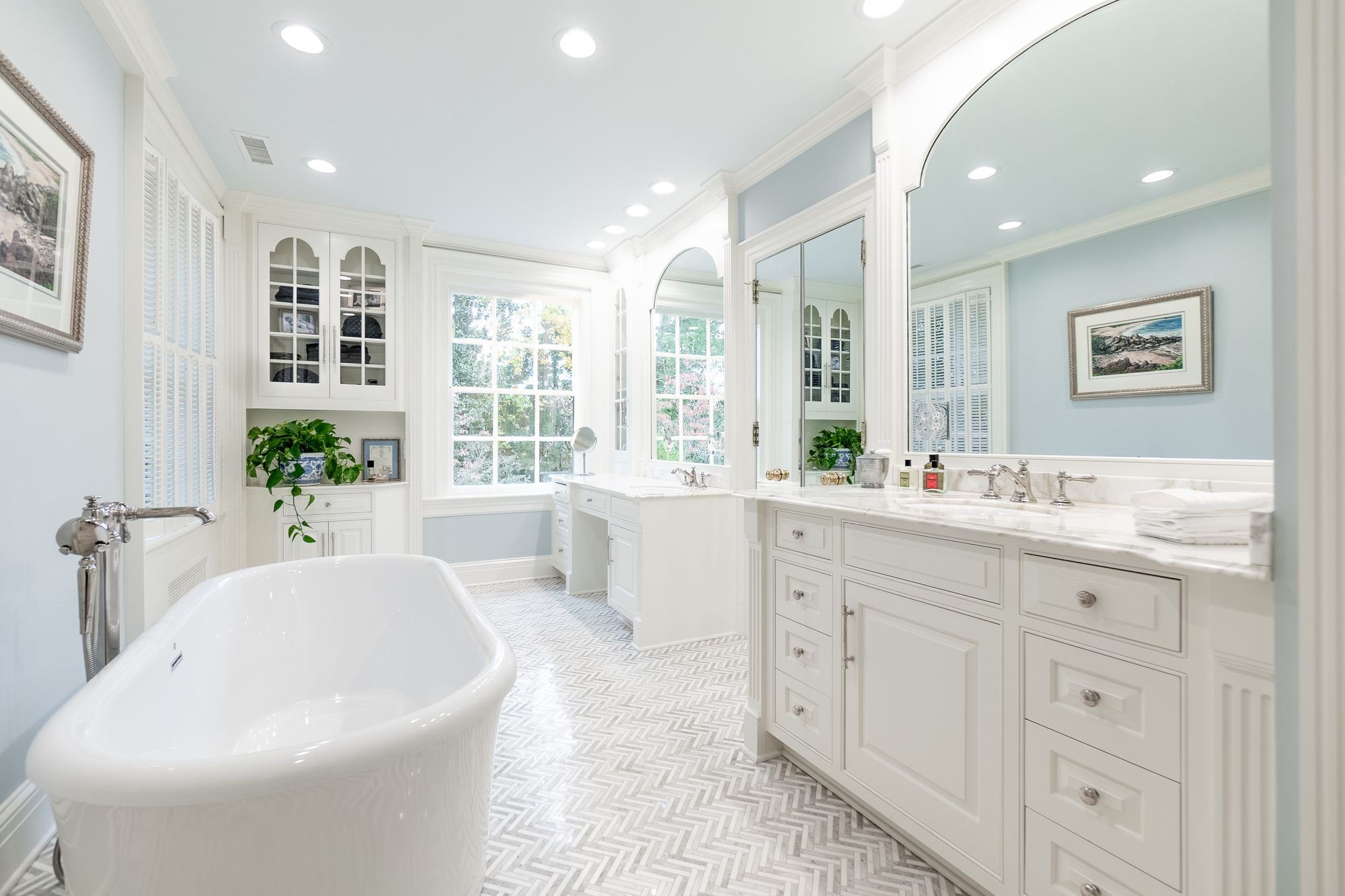 Trouble Deciding Your Bathroom Design?
At Cabinet Concepts, we love helping out our customers find new design interests and exploring the many different options that can be found when designing a bathroom. Our experienced designers and specialists will provide you with the approach you need to ensure your satisfaction — you will not want to spend time away from your new bathroom once we are done with it!
The Bathroom Of Your Dreams
Designing a bathroom is more than a science. It's an art. And a good design professional will employ craftsmanship and artistry to create a bathroom design that lands somewhere between functional and beautiful. The skilled team members at Cabinet Concepts will help you plan the room's layout and guide you through the design process step by step, all the while considering things like size constraints, the latest aesthetic trends and amenities, the homeowner's needs, and the resale value of the home. To achieve your ideal bathroom — a space of tranquility and functionality — we'll help you follow 3 basic principles.
1. Know your needs
Before designing your new bathroom, you must have a clear understanding both of your lifestyle needs and the room's intended functions. Do you need a bathtub to bathe kids or pets or simply to relax? Do you require ample storage for toiletries, do you like "his" and "her" vanities? Perhaps you need only a half-bath or guest bathroom instead of a large, practical master bath. Whatever your needs are, Cabinet Concepts will accommodate them, assessing how you use your bathroom and supplying you with individually tailored products and design solutions.
2. Use your space
Many people interested in bathroom design in Greensboro, N.C., grapple with space constraints and the problems of a small bathroom. But the team at Cabinet Concepts possesses the knowledge, tips, and tricks to maximize your space, making your small bathroom feel open and airy. Here are just some of the techniques/design features that may work for your bathroom: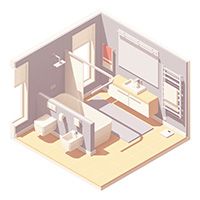 Light or Warm Colors:
In contrast to dark colors, which inspire a crowded or cloistered feeling, light walls and warm accents have a way of opening up a room.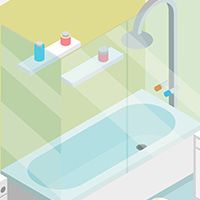 Glass Shower:
Glass showers don't wall off the bathroom, but allow you to see the whole room at once, creating an illusion of space and light.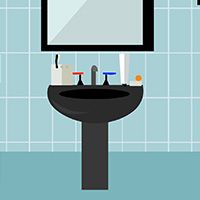 Pedestal Sink or Floating Vanity:
Not only are they modern and chic, but these fixtures save on space. Not to mention, their sleek silhouettes make the bathroom seem larger.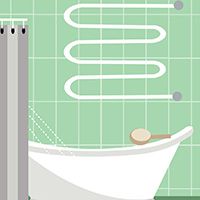 Small Bathtub:
A smaller bathtub will fit the space better, and there are countless sizes, shapes, and styles available.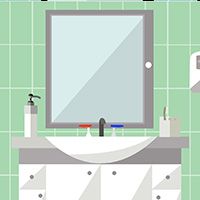 Glass and Mirrors:
The right combination of glass and mirrors offer just enough reflective surfaces to give the illusion of a bigger space.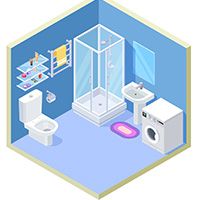 Wall Space:
Drawing attention to the height of the room with a design motif that reaches up to the ceilings makes it feel much more expansive.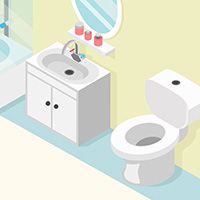 Petite Fixtures:
Oversized light fixtures and mirrors can dwarf a small bathroom. Pare it down.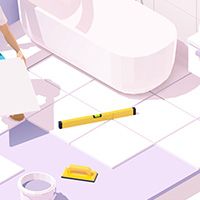 Large Floor Tiles:
Clean, widely-spaced lines keep the room from feeling busy.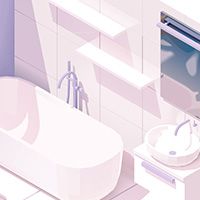 Storage:
Clutter is the ultimate enemy of a small bathroom. Declutter your space by maximizing drawers and cabinets, using under-sink storage and towel bars, and installing open shelving, which lends an illusion of depth. Be careful not to cram open shelving with a disarray of bath products.
3. Find a balance
Your bathroom can be practical without compromising on beauty, and our experienced design professionals can help you strike the perfect balance. We'll configure a floor plan that accommodates functionality and ease of use, installing plumbing fixtures in practical relation to each other, creating a seamless, easy room flow that works best for your needs.
We'll ensure the design aesthetic is in keeping with the rest of your home, whether sleek and contemporary or warm and traditional. Then we'll discuss your options, showing you the latest and greatest in materials, plumbing fixtures, lighting fixtures, decorative accents, and accouterments. No matter the style, we'll keep the room simple, clean, and harmonious — just how a Zen bathroom should be.
Get Started
No matter where you are in the process of bathroom design in Greensboro, N.C., we'd like to hear from you. Whether you've just started thinking about designing your bathroom or are deep in the process, Cabinet Concepts can help. Call us at (336) 268-2028, email lee@cabinetconceptsgso.com or schedule a visit to our showroom! Isn't it time to find your oasis?
Get In Touch for a Free Consultation