Services
Custom Cabinets in Greensboro, N.C.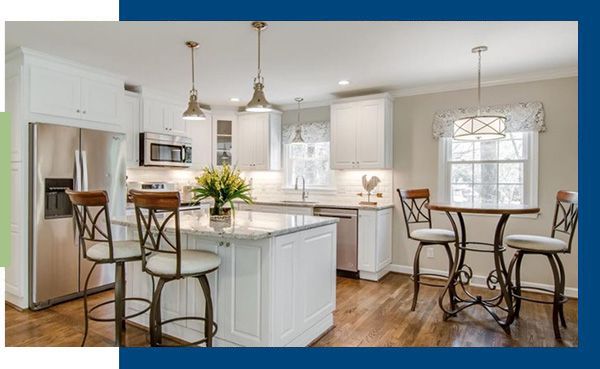 Custom-Made Cabinets in Greensboro
Looking for beautiful, custom-made cabinets in Greensboro, N.C. to add some pop and pizzazz to your kitchen, bathroom, or living space? Cabinet Concepts in Greensboro, N.C., is the metropolis of affordable, distinguished, and one-of-a-kind cabinets to match your budget and taste.
As a retailer and wholesaler of cabinets in Greensboro, N.C., we buy our cabinets directly from preferred manufacturers. We also have strong relationships with expert finishers and custom woodworkers in and around the Greensboro area. This variety of resources enables us to assemble the best teams for each project and cover a wide range of price points.
Our partners add special value to remodeling projects, providing the talent and expertise to match existing cabinetry or architectural details in both, style and finish. From affordable manufactured cabinets to custom cabinet designs and major cabinet installations, the result with Cabinet Concepts is always beautiful.
To view some of the most stunning cabinets in Greensboro, N.C., schedule a visit to our showroom today!
From custom cabinets to space design
Cabinet Concepts is the choice company in the Greensboro area for any remodel or space design, whether transforming an outdated kitchen to something more modern and trendy, changing styles, or creating a more functional and livable area. Cabinet Concepts works with the client to establish the ideal design and remodel a space to fit within the client's price range and style preferences.
Guaranteed Professional Cabinet Installation
Cabinet Concepts guarantees not only top-notch and beautiful cabinetry but also professional and trustworthy installation. We strive towards professionalism in every aspect of kitchen craftsmanship, from design to installation, to ensure customer satisfaction and provide a smooth, stress-free, and enjoyable experience.
Our Remodeling Value
At Cabinet Concepts, we strive towards implementing modern and fresh designs and processes tailored to your unique needs and to the specific demands of your space. Our cabinet installations include complete, professional services and knowledgeable and experienced problem-solving to counter any challenges posed by the existing space. We provide remodeling solutions and proactive customer service to guide you through every step of the process.
As we begin a design project, we take every factor into consideration. We'll start with how you personally plan to use the space and then develop a design that improves flow, convenience, and visual impact. From lighting and appliances to cabinets and countertops, we'll transform your space from average to amazing and stunning!
If you are ready to bring your kitchen, bathroom, closets, or any living space to life with new cabinets, contact Cabinet Concepts today for a FREE estimate at (336) 268-2028. Let us show you first-hand how our creative design and innovative remodeling services can transform your home into the home of your dreams.
Cabinet Concepts has been providing high quality and affordable cabinetry, remodeling, and design services to Greensboro, High Point, Winston-Salem, Kernersville, Burlington, and surrounding areas since 2003. If you have any questions please contact us today!
Get In Touch for a Free Estimate